The Chemistry of DOI
DOI is a psychedelic drug that belongs to the amphetamine family of compounds.1 Its chemical skeleton consists of a phenyl ring that is attached to an alkyl chain which, in turn, is attached to an amine. DOI is amphetamine with an iodine molecule at position 4 and methoxy groups at positions 2 and 5.
DOI was first synthesized by Coutts and Malicky in 1973.2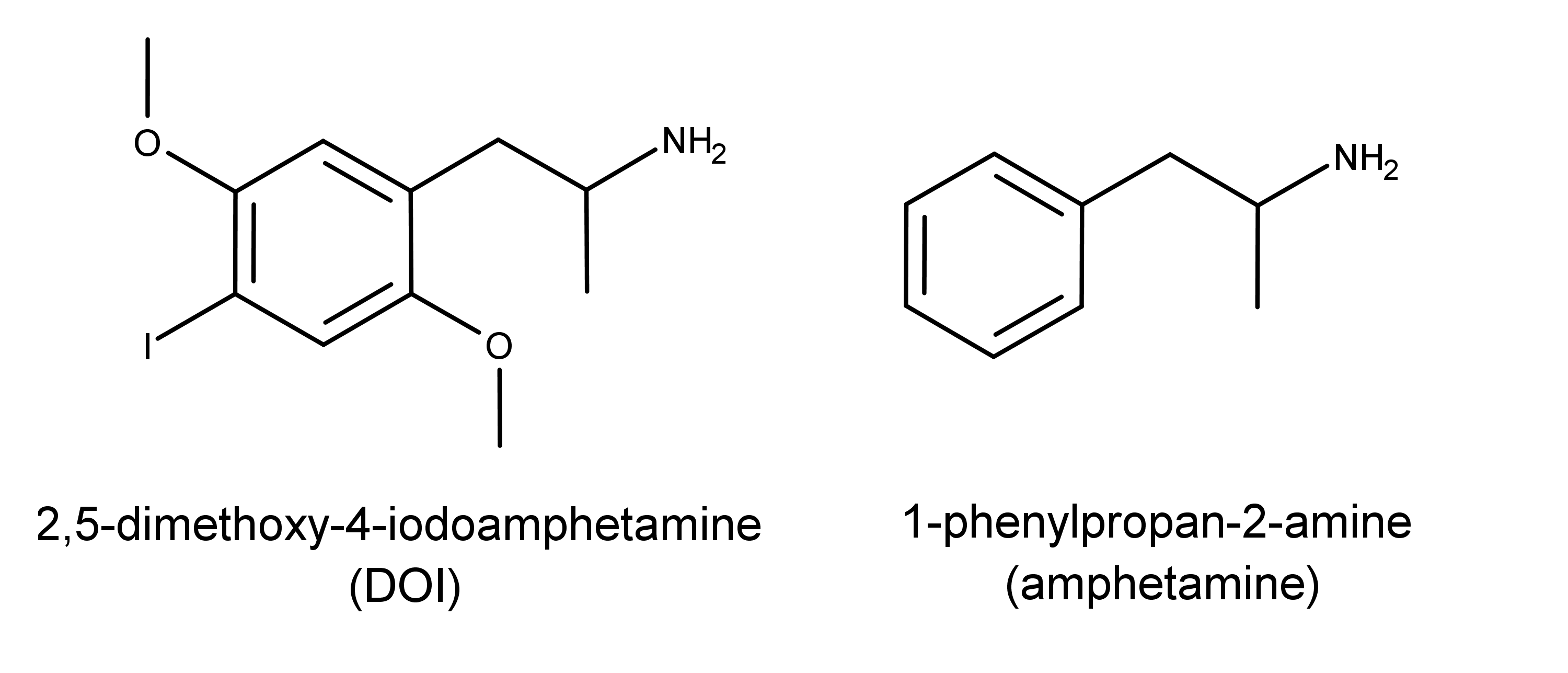 The Pharmacology of DOI
In 1987, a research team including Dennis McKenna and Alexander Shulgin identified the DOI binding site in the rat brain using the radioactive form [125I]-DOI.3
Studies have shown that DOI is a potent agonist, and has a high affinity for, the serotonin 5-HT2 receptor subtypes (see table below).4–7
Alexander and Ann Shulgin explain the effects of ingesting various doses of DOI in their book PiHKAL (#67).8
The Applications and Potential of DOI
In 2008, Yu et al. observed that stimulating the serotonin 5-HT2A receptor with DOI rapidly inhibited several tumor necrosis factor (TNF) proinflammatory markers in vitro.9 The results also suggested that 5-HT2A has a role in the inflammatory process. Additional work done by Nau et al. in 2013 showed the anti-inflammatory effects of DOI in mice.10 These studies suggest that DOI-based therapies could be developed to prevent and treat inflammation.
A 2019 study found that DOI decreased voluntary ethanol consumption in mice.11 Regarding a possible mechanism, the authors hypothesized that the effects "may be related to modulation of the effects of ethanol in the reward circuitry of the brain, ethanol-induced neuroinflammation, or a combination of both."
Receptor Binding Affinity Data
| Receptor | Ki (nM) | Species | Note | Ref. |
| --- | --- | --- | --- | --- |
| 5-HT2A | 0.65 | Human | | 7 |
| 5-HT2B | 20.2 | Human | | 7 |
| 5-HT2C | 2.36 | Human | | 7 |