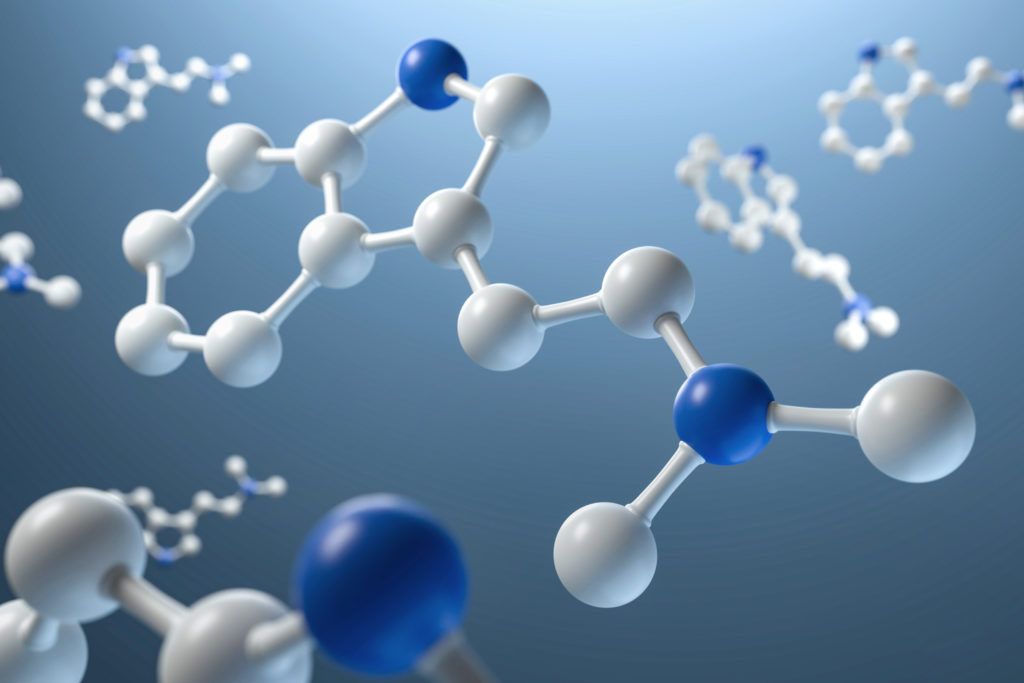 DMT (N,N-dimethyltryptamine) is a naturally occurring psychoactive molecule found in plants of several genera, including Acacia, Desmodium, Mimosa, Virola, Delosperma, Phalaris,1 and citrus.2 DMT is also in the brains of animals including mammals.3,4 Scientists have detected endogenous DMT in humans tissues,5–7 and some hypothesize that DMT may act as a neurotransmitter.1
The Biosynthesis of DMT
In 2018, a paper by Barker reviewed the scholarly literature on DMT, including its biosynthesis.8 Figure 1 illustrates the biosynthesis steps (click to enlarge). It begins with the amino acid tryptophan. Animals must get this amino acid in their diet (i.e., it's an essential amino acid), whereas plants make it themselves.9
Tryptophan is converted to tryptamine by the enzyme aromatic amino acid decarboxylase (AADC).
Tryptamine undergoes transmethylation by the enzyme indole-N-methyltransferase (INMT). The enzyme takes one methyl group from a compound called S-adenosyl-methionine (SAM) and attaches it to tryptamine (SAM is acting as a cofactor in the reaction by donating the methyl group). The reaction results in tryptamine being converted to N-methyltryptamine (NMT).
Step 2 is repeated, with INMT taking a methyl group from another molecule of SAM, and transferring it to NMT. From this, NMT is converted into N,N-dimethyltryptamine (DMT).
Controlling the Biosynthesis of DMT
Things can get out of hand fast if there are no controls on physiological reactions like this in the body. However, it's not entirely clear at this time how the body regulates DMT production. Figuring it out is complicated by the fact that there may be several forms of INMT (isoenzymes) within a species.8 Since the early 1970s, scientists have reported on an as yet unidentified water soluble and dialyzable inhibitor of INMT which may regulate its activity, and subsequently, DMT biosynthesis.10–14
Continuing Research on DMT
The psychedelic science of DMT is intriguing, important, and provides many paths for research. Barker suggests that "…more research is needed on DMT's natural role and function and interaction with other neurotransmitter systems." 8 To that end, he notes the need for removing regulatory blockades that have existed for 50+ years and stymied DMT research. Noting the endogenous nature of DMT and its potential role as a neurotransmitter, he contends that DMT "deserves a special stature for future research."
Comments