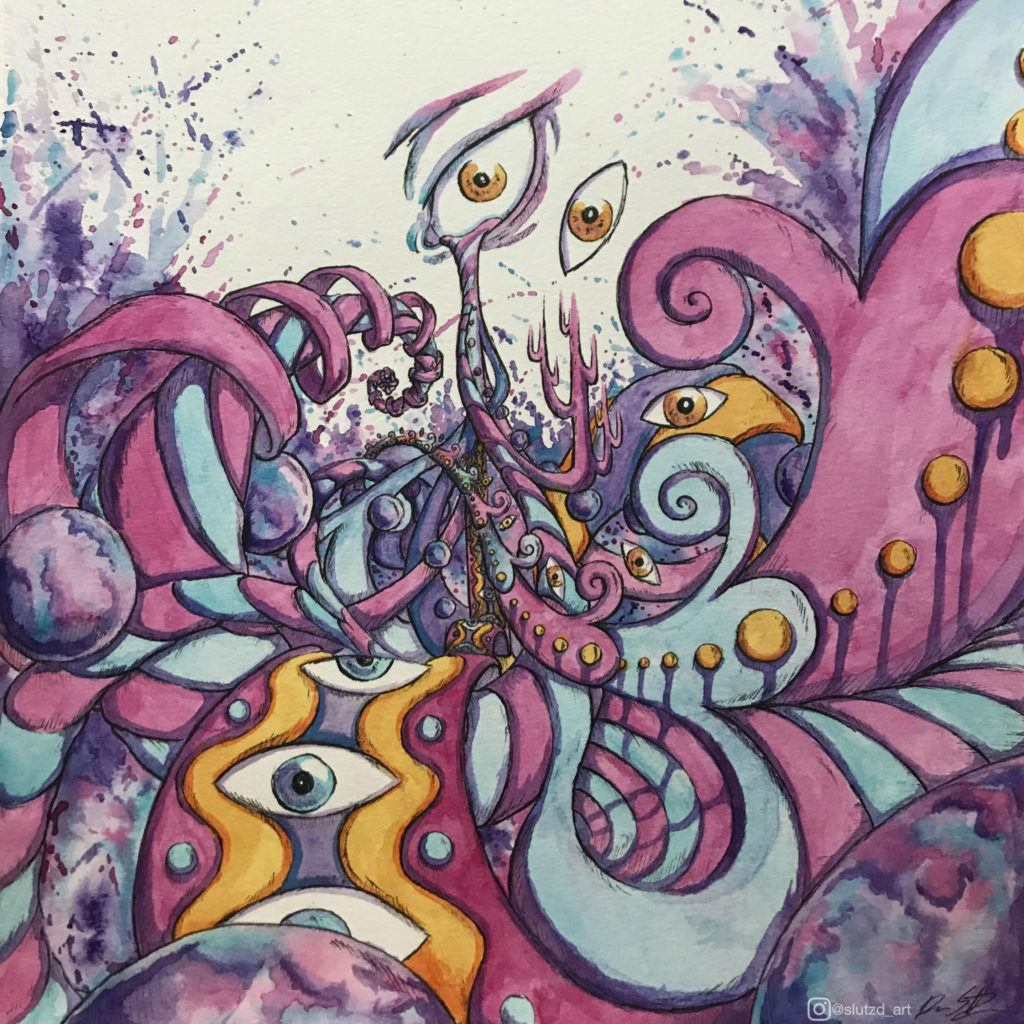 Hallucinations are a staple in determining altered states of consciousness.1 They arise in everyday life, in mental disorders, and due to substance use.2-4 Each of these sources of hallucinations differ (with some crossover).
The general population's hallucinations are usually brief and not experienced frequently.2,3 Typical examples are hallucinations experienced during hypnagogia, the transition state between being awake and asleep, or hearing one's name called out loud with no source.2,3,5 Generally, in persistent mental disorders such as chronic schizophrenia, the most common hallucinations are not visual.1-7 The most common are frequent negative auditory hallucinations, extending to the point of it being abusive. Psychedelic hallucinations, however, are mainly visual with auditory aspects being rarer.3-7
A recent paper published in Nature used artificial neural networks to reproduce psychedelics' visuals in VR.8 They succeeded in creating a primitive visual architecture that can broadly mimic psilocybin administration. It works through the AI technique of backpropagation. Backpropagation is an algorithm that works through top-down (making predictions) and bottom-up (data input) processes. The human brain uses something similar to experience everyday reality.
Many overall theories of brain function can be combined to say that the brain generates a representation of the world it inhabits.9 Applying predictions to this representation lowers the energy cost associated with interpreting information from the senses.
As mentioned before, psychedelics increase disorder in the brain and increased brain disorder creates more internal brain states.9,10 More internal brain states increase something called recognition density, which is representative of predicting causes for the senses. Following this line of reasoning, increasing brain disorder increases the amount/intensity of predictions for the senses.
Experts speculate the ability to make these predictions is due to a specific type of neuron called deep-layer pyramidal neurons.9,11 Psychedelic users overexciting these neurons, increasing their predictive ability, could explain how suggestions spontaneously manifest into the users' reality.11 In addition to this, researchers propose that psychedelics disrupt information processing in the brain's thalamic pathways.7,12,13 These pathways are responsible for people being able to screen out, inhibit, or filter unimportant information.
Ultimately, visual hallucinations seem to arise in humans due to the inability to screen out unimportant information combined with an overload of predictive power.7,11
Reproducing Visual Hallucinations in Sobriety
Visual hallucinations in humans have been traditionally classified into four artistic replications called form constants (Figure 1).14,15
These spiralling inward pictures represent the signal of the optic nerve's connection. It spans the eye's retina, the back of the eye, through the thalamus and into the brain's visual cortex. Researchers have modelled neuron excitations in this eye-brain connection and translated them into polar coordinates to represent the visual field (Figure 2).
Increasing excitability in the brain's visual cortex leads to visual hallucinations.5,15-17 Many types of serotonin receptors line the brain's visual cortex and thalamus.5,17 Acetylcholine, another neurotransmitter, is concentrated here as well and there are potentially important cholinergic-serotonergic interactions at these sites.5 Regardless, researchers repeatedly show that psilocybin activating the 5HT2A serotonin receptor causes the formation of psychedelic visuals.15,17
There is a wealth of gathered scientific research available on PsychonautWiki and EffectIndex regarding visual phenomena. EffectIndex, in charge of Reddit's /r/replications, exists to serve as a collection of artistic recreations of the hallucinogenic experience. As an example, one of the most scientifically validated visual effect due to psychedelic intoxication is after-images (Figure 3).18-22
Components of visual trailing phenomena theories propose that "the attentive motion system takes discrete samples of the object in motion to compute its trajectory."21 Substances such as psychedelics alter these systems. This observation seems to be in line with other researchers' ideas that hallucinations arise in humans due to the inability to screen out unimportant information combined with pyramidal neuron overexcitability increasing predictive power.7,11
Lastly, an important finding from the Nature AI researchers, from earlier, is they found that psychedelic experiences' similarities to their VR reproduction ended at its visuals.8 Visuals alone are not enough to disturb our interior construction of time passing and various other introspective effects characterized by psychedelics.
Hallucinations exist for everyone. Mental disorders mostly have audio hallucinations while psychedelics mostly create visual hallucinations. Visual hallucinations seem to arise in humans due to the inability to screen out unimportant information combined with an overload of predictive power. Scientific researchers are modelling neurons in visual architecture. Artists are now replicating hallucinogenic experiences. However, it is important to remember that visuals alone cannot fully characterize a psychedelic experience.
Comments