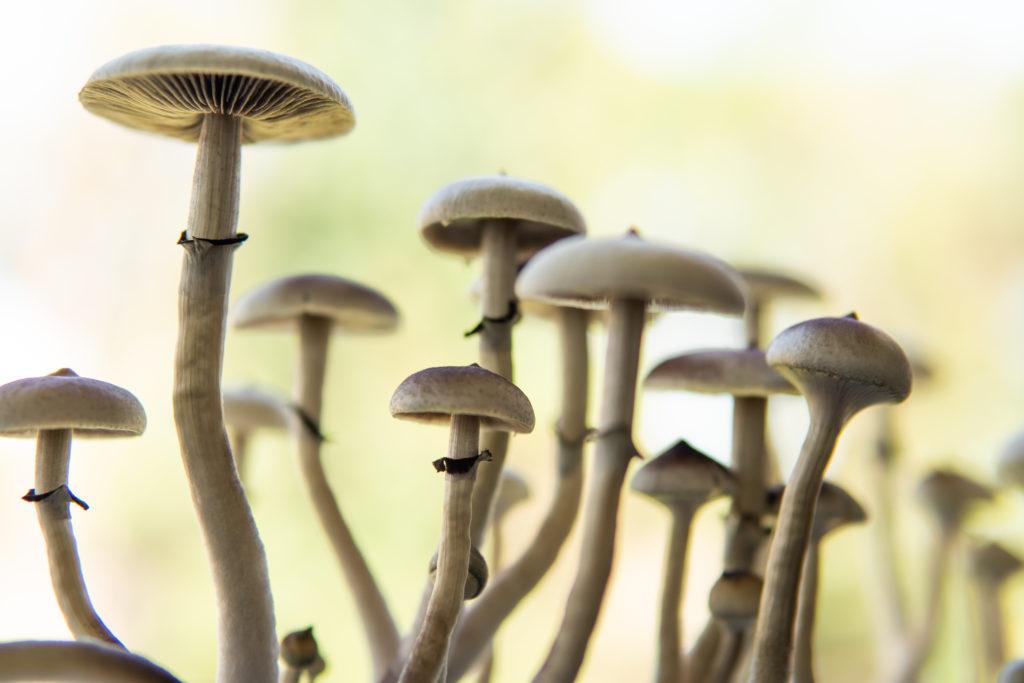 Like everything in nature, magic mushrooms are subject to the effects of their surrounding environment. These variables (what Paul Stamets calls "a constellation of factors"1) include temperature, soil conditions, gravity, light, humidity, competition for resources, and the impact of pests, diseases, and predators.2
Changing one or more variables affects where magic mushrooms grow, when, how well, the compounds they contain, and the levels of each compound.
Some variables are harder to control than others in the laboratory. Making changes to the soil/medium or light used for growing magic mushrooms is relatively manageable and can lead to exciting, intriguing, and useful discoveries.
This article will examine just two cultivation studies that have enlightened scientists and mushroom growers over the years. The curiosity and dedication displayed by these psychedelic mushroom pioneers has laid down knowledge that remains important in psychedelic research today.
Jochen Gartz – Growing Medium Tests Using Psilocybe cubensis
In 1989, the famed psychedelic mushroom researcher Jochen Gartz studied the impact of adding tryptamine to the growing medium of the magic mushroom Psilocybe cubensis.3 Specifically, Gartz wanted to know how increasing the amount of tryptamine affected the levels of psilocybin and psilocin the mushrooms produced. Recall that tryptamine is a precursor in the biosynthesis of psilocybin.4,5
Gartz observed that increasing the tryptamine concentration in a cow dung-rice growing medium increased the psilocin content from 0.09% to 3.3% of the dried mushroom weight compared to controls. Also, using high-performance liquid chromatography (HPLC) and thin-layer chromatography (TLC), Gartz discovered that P. cubensis grown on this tryptamine-enriched mixture contained only a small amount of psilocybin (0.01 – 0.2%).
Gartz also made interesting observations on the levels of psilocybin and psilocin in successive flushes (fruiting or harvesting periods) of P. cubensis, as did Bigwood and Beug in 1982.6 But that's another article.
Rafati et al. – The Effects of Light on Psilocybin and Psilocin Levels in P. cubensis
This 2009 study analyzed the amounts of psilocybin and psilocin in P. cubensis grown under three conditions: bright, indirect lighting, dim lighting, and in the dark.7 The analyses were done using GC-MS (gas chromatography-mass spectrometry).
The GC-MS data revealed that the levels of psilocybin and psilocin in the three groups of mushrooms were significantly different (p<0.001). The mushrooms grown in the dark had the highest levels of psilocybin and psilocin, while minimum levels were found in those grown in bright, indirect light.
Interestingly, psychedelic mushroom expert Paul Stamets hypothesized in his book Magic Mushrooms of the World: An Identification Guide, that ultraviolet radiation from the sun reduces the potency of psilocybin-containing mushrooms.1 "I observed that sun-struck Psilocybe cubensis appear weak in comparison to those found in the shade," (page 36). This study by Rafati et al. was the first to report data on the effects of light on psilocybin and psilocin levels in psilocybin-containing mushrooms and supporting Stamets's hypothesis.
Keeping Nature in Sight
Knowing that the amounts of light and tryptamine influence how much psilocybin some mushroom species synthesize is just a small part of psychedelic mushroom ecology and physiology. The current surge in developing synthetic and biosynthetic methods for making magic mushroom compounds is taking center stage these days. Revisiting seminal research studies on the mushrooms themselves serves as a reminder of the intricacies and adaptability of nature.
Note: This article was edited after its original publication to correct some factual errors.
Comments