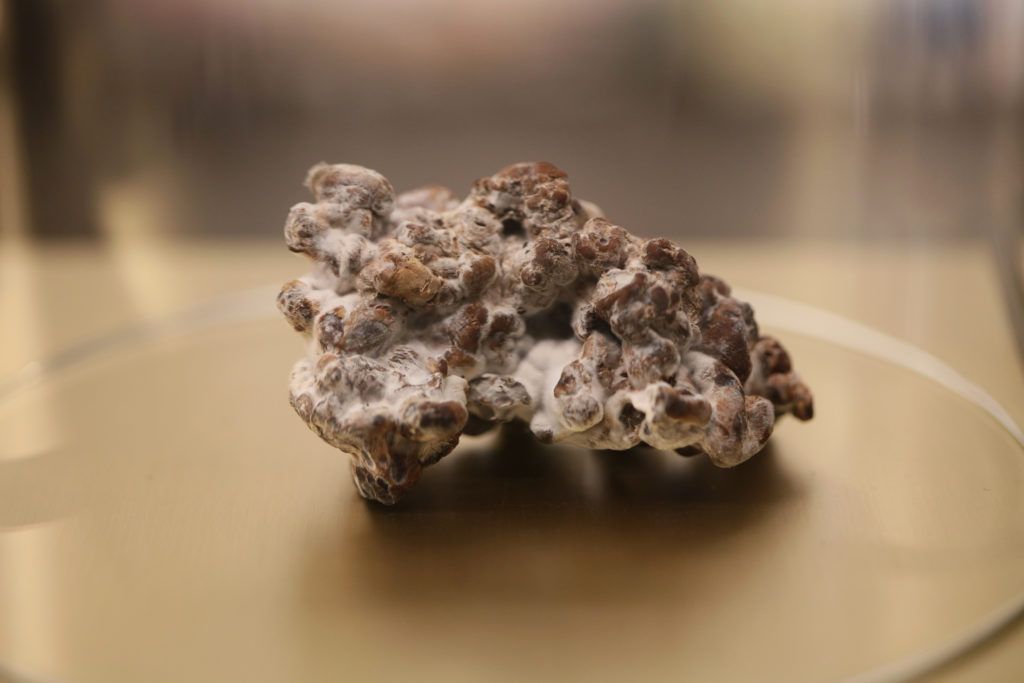 Most people know truffles as an expensive ingredient used in cooking that are sniffed out in the forest by trained pigs or dogs.1 However, psilocybin truffles are not the culinary kind and are also different from psilocybin (magic) mushrooms. Despite little research into the compounds in magic truffles, many assume they are basically the same thing as magic mushrooms, when in fact, there are several important differences.
How Are Psilocybin Truffles and Mushrooms Different?
To begin, magic truffles (aka Philosopher's Stones) are mycelial masses that grow below ground on the mycelium of fungi species, including Psilocybe Mexicana and P. tampanensis.2,3 Other magic mushroom species, such as P. cubenesis, do not produce truffles. The correct term for the growths is actually sclerotia (dense nodules), not truffles. Sclerotia often grow during times of drought or other conditions that don't favor the growth of the mushroom.4 Magic mushrooms use sclerotia to store food and nutrients to survive during tough times.
Conversely, magic mushrooms are the above-ground fruiting bodies of psychedelic fungi (mycelium), also classified in the genus Psilocybe (see image below).
Although there has not been much research into the compounds in the sclerotia, from what has been studied, it appears they contain some of the same compounds as magic mushroom flesh. These compounds include psilocybin, psilocin, baeocystin, and norbaeocystin.4–6
As is true with magic mushrooms, many variables may play a role in the resulting compounds found in sclerotia. For example, variations in weather, soil nutrients, pH, and sunlight could change the type, number, and levels of compounds the sclerotia form.
In his book Psilocybin Mushrooms of the World, mycologist Paul Stamets says that psilocybin truffles have "a lot of psilocybin but little psilocin." This hypothesis is corroborated in the literature.5–7 In fact, Pellegrini et al. reported: "…no trace of psilocin could be found at least at the limit of the detection of the assay" (0.3 µg per 100 mg truffles). In stark contrast, a 2019 study by Mason et al. found that a sample of truffles from P. Hollandia contained 1.9 mg of psilocybin and 10.5 mg of psilocin.8 Clearly, there is an unmet need for studying magic sclerotia and their cultivation conditions in more depth.
Adding to the confusion for non-scientists is the speculation and misinformation found online. For example, one website makes the following statement about the potency of magic mushrooms and truffles without any references, based purely on conjecture. "Some people state that magic truffles are less potent than magic mushrooms. However, as both are simply different parts of the same organism, they both contain the exact same psychoactive alkaloids—psilocybin, psilocin, and baeocystin being the most prominent. Therefore, we can assume that they have the same potency."9 In other words, this statement may lead readers to believe that the effects of, for example, 1 gram of magic mushrooms would be the same as 1 gram of magic sclerotia. The statement is also assuming that the levels of each compound are the same in the mushrooms and the sclerotia.
Different Legal Status for Magic Truffles
Psilocybin truffles are not specifically included in most laws covering psilocybin mushrooms because, technically, they are not mushrooms. The popularity of truffles has been rising since around 2008 when psychedelic mushrooms were banned in The Netherlands.10 However, the new legislation does not cover psilocybin-containing truffles. Understandably, this exclusion fueled a large growth in sales in the local 'smart shops' that continues to this day. In July, Yahoo Finance reported that Red Light Holland reached a milestone of 350,000 grams of magic truffles sold.11
According to Matteo Grassi, psychologist and co-founder of Viceroy Holdings, in the United States, the legality of magic truffles varies on a state-by-state basis.12 He says, "In general, however, aside from Georgia and Idaho, there are no active laws forbidding using truffles…"
The Impact of Magic Truffles on Psychedelic Research
The literature indicates that magic sclerotia are finding their way into scientific studies as a means of studying the effects of psychedelic compounds. Unfortunately, there is even less understanding about the chemical makeup of psilocybin truffles than psilocybin mushrooms.
Further research is needed to identify and characterize all the compounds that are in magic mushrooms and their sclerotia (for those species that have them). Those first steps will help answer basic questions like, are there psychoactive compounds in magic truffles that are not found in magic mushrooms? Until such time, studies that utilize magic truffles without fully analyzing them first may have unknown compounds flowing through their data and affecting the results.
Comments