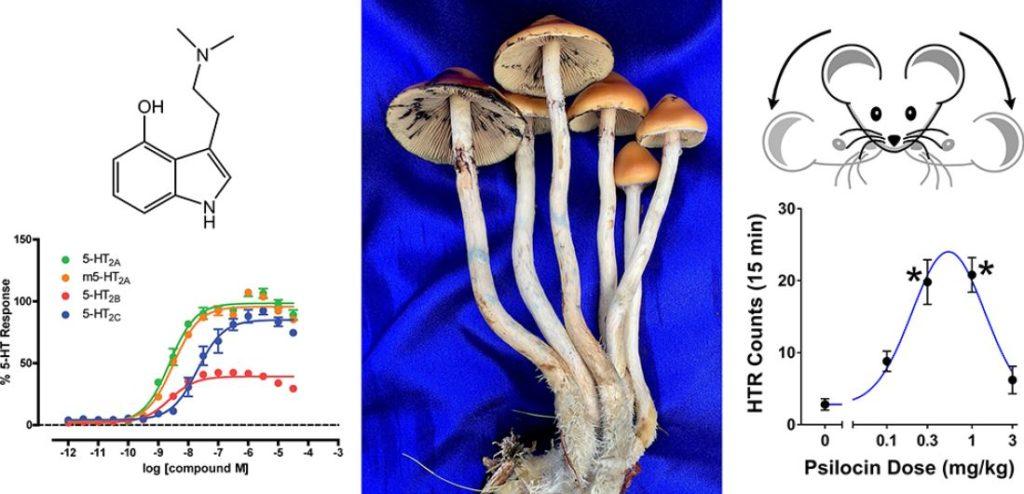 Structure-activity relationships (SARs) are essential in medical and pharmaceutical research because they show how the chemical structure of a compound relates to its biological activity. When looking at the big picture, SARs underscore the importance of researching and understanding the chemical variability of all the naturally occurring psychedelic compounds in an organism.
Recently, a team of scientists led by Dr. Adam Klein published the results of their work studying the SAR of 17 structurally related tryptamine compounds, all analogs of the magic mushroom compound psilocybin.1 According to the authors, "there has been little systematic investigation of the structure-activity relationships of 4-substituted tryptamine derivatives," and in the case of the 4-substituted derivatives, "almost nothing is known about their pharmacological effects."
The tryptamines used in the study were all 4-substituted N,N-di-alkyltryptamines. These compounds can be further divided into two categories, 4-acetoxy (4-AcO) substituted and, 4-hydroxy (4-HO) substituted (Figure 1).
The salt forms of the compounds in the study were:
4-AcO-DMT fumarate (psilacetin)
4-HO-DMT (psilocin)
4-HO-DET hydrochloride
4-AcO-DET fumarate
4-HO-MET hemifumarate
4-AcO-MET fumarate
4-HO-MPT fumarate
4-AcO-MPT fumarate
4-HO-EPT 3:2 fumarate
4-AcO-EPT fumarate
4-HO-DPT hemifumarate
4-AcO-DPT fumarate
4-HO-MIPT hemifumarate
4-AcO-MIPT fumarate
4-HO-DIPT hydrochloride
4-AcO-DIPT acetate
4-HO-MALT 3:2 fumarate
The team measured the in vitro and in vivo activity of these compounds. They conducted calcium mobilization assays for assessing functional activity at several serotonin receptor subtypes, particularly 5-HT2A. They also used the head twitch response (HTR) test in mice as a behavioral model for LSD-like psychedelic activity.
Below is an overview of the study findings.
All compounds behaved as full or partial agonists at the serotonin receptors, displaying similar potencies at 5-HT2A and 5-HT2B.
Some compounds with bulkier N-alkyl groups (e.g., N,N-diisopropyl) had lower potency at 5-HT2C and higher 5-HT2B receptor efficacy.
Compared to their 4-HO analogs, the 4-AcO compounds exhibited reduced in vitro 5-HT2A potency by about 10- to 20-fold.
In contrast, the 4-AcO and 4-HO compounds exhibited similar agonist efficacy in vivo, as shown in the HTR experiments, "suggesting that O-acetylated tryptamines may be deacetylated in vivo, acting as prodrugs."
Klein et al. summarized the results by saying,
…the tryptamine derivatives have psilocybin-like pharmacological properties, supporting their classification as psychedelic drugs.
Conclusion
SARs have proven to be valuable tools in other recent studies on psychedelic compounds. These include kratom,2 tabernanthalog,3 and the discovery of an anti-inflammatory pharmacophore in rats, 2C-H.4 Klein et al.'s use of SARs has added essential information to the growing knowledge base of the pharmacology of psychedelics. This fundamental knowledge forms a base from which a myriad of other investigations can be conducted.
Comments