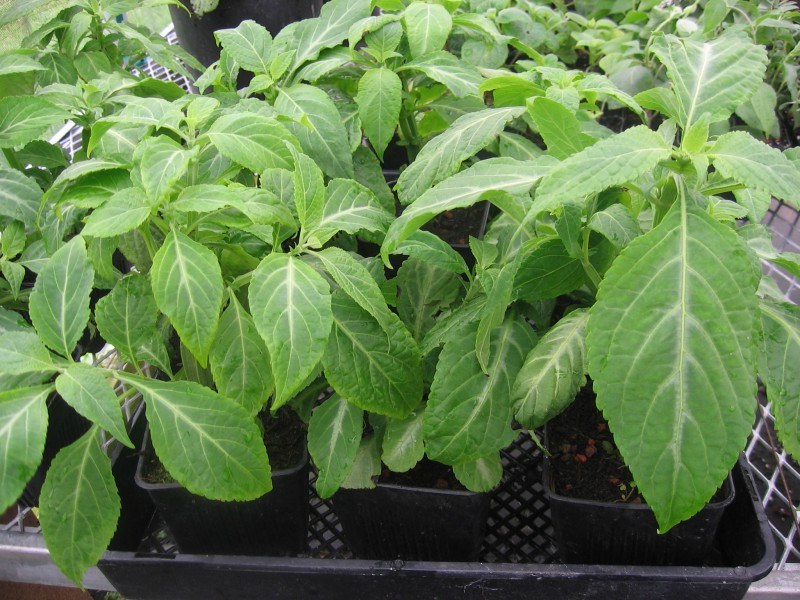 Salvia divinorum is a hallucinogenic/entheogenic plant native to Mexico. It is a member of the mint family and goes by other names such as "Diviner's Sage," "Mystic Sage," and "Magic Mint." 1 There are over 500 species of salvia, so referring to it by just its genus name (salvia) can be misleading to some. However, there is no confusion among psychedelic researchers and psychonauts.
Salvia has been used for centuries by the Mazatec Indians of Oaxaca, Mexico, for creating religious and mystical visions. They also use the plant for treating diarrhea, rheumatism, and headaches.2 The two most common methods for ingestion are chewing and swallowing the leaves and crushing the leaves to obtain the juice and drinking it.3 The leaves can also be dried and smoked.4
Some of the Compounds in Salvia
The primary active component of salvia is a compound called salvinorin A. In 2002, Roth et al. found that salvinorin A had no action at the serotonin 5-HT2A receptor,5 considered by experts to be principal target responsible for the effects of classic psychedelics.6 Further testing on a battery of 50 other receptors, transporters, and ion channels showed no activity.
However, their data indicated that salvinorin A "showed a distinctive profile" similar to classic hallucinogens such as LSD (lysergic acid diethylamide) . Specifically, salvinorin A displayed a high affinity as an agonist for the kappa opioid receptor (KOR). Roth et al. noted that based on published data and their own, salvinorin A has a higher potency than LSD and DOB (4-bromo-2,5-dimethoxyphenylisopropylamine).
Among KORs, one chemically unique characteristic of salvinorin A is its the lack of any nitrogen atoms. In their 2002 paper, Roth et al. observed for the first time that "Salvinorin A thus represents, to our knowledge, the first naturally occurring nonnitrogenous opioid-receptor subtype-selective agonist." 5
Scientist have isolated other compounds from salvia including salvinorin C,7 D-F,8 divinatorin D, divinatorin E, and salvinorin G.9
The Pharmacological Effects of Salvia
Studies have shown that salvinorin A has physiological effects similar to other kappa opioid receptor agonists. These effects include analgesia, sedation, constipation, aversion, and depression.10–15
The Subjective Effects of Salvia
A 2010 internet-based study of 500 people found the most frequently cited effect of smoking salvia was an increased sense of well-being.4 In 2011, a research team including Matthew Johnson and Roland Griffiths conducted a double-blind, placebo-controlled study of the effects of inhaling ascending doses of vaporized salvinorin A.16 The participants experienced changes in spatial orientation and feelings of pressure on their bodies. Several reported revisiting childhood memories, having contact with entities and perceiving cartoon-like imagery.
Many personal experience reports from people who have taken salvia and salvinorin A are found on websites such as Erowid, Bluelight, Reddit, and Salvia.net. The experiences people have can be different depending on many variables like set and setting, compound purity, and mindset before the experience.
Comments