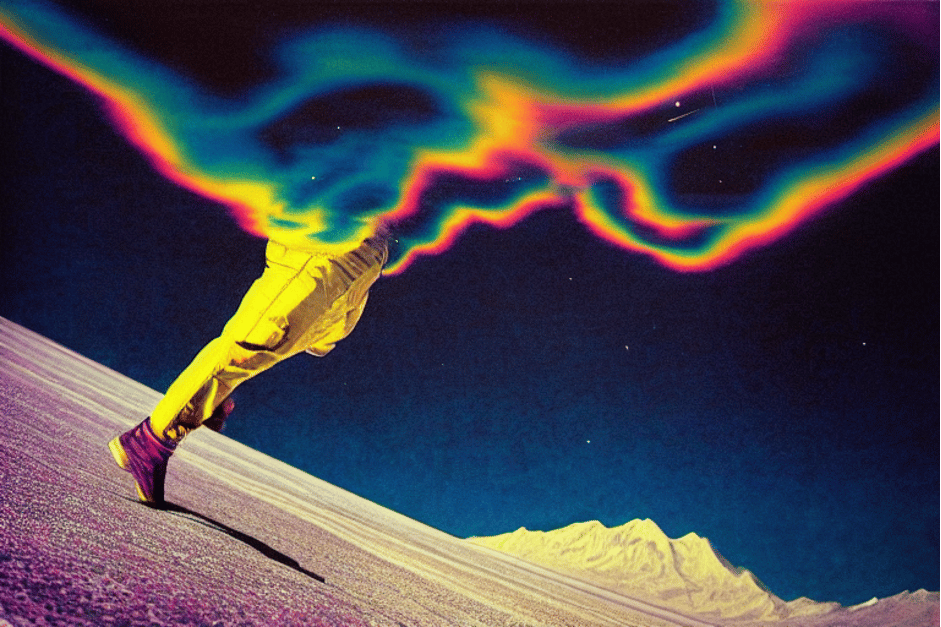 A trip, as a direct cause of ingesting psychedelics, can be both healing and exhilarating. Giddy feelings, melting walls, and merging of yourself with everything in the universe are but some of the experiences people have on psychedelics.
But it's not all fun and games. Confusion, paranoia, intrusive hallucinations, and losing your sense of self can also manifest during a trip. In those cases, do you ride it out, or is there another solution?
So-called trip stoppers are substances that promise to get someone back to the reality they were familiar with. Coincidentally, it could offer drug companies a way to shorten the duration of a trip, but at what cost?
How trips were stopped before
Vitamin B3 (niacin)
Theories on how to stop a trip were first conceived 68 years ago by Abram Hoffer.1,2 He hypothesised that high doses of vitamin B3, also known as niacin, could help treat various illnesses, including schizophrenia. Similarly, he hypothesised that it could stop the effects of an ongoing LSD trip.
Reports from that period note the use of niacin to stop a trip,2 but no modern research has been done to replicate these findings. The only use of niacin in contemporary psychedelic research has been as an attempted active control for psilocybin.3 At high doses (250 mg), niacin can lead to skin flushing and dizziness, a far cry from typical psychedelic effects.
Benzodiazepines
Benzodiazepines, colloquially known as benzos, were invented the year after Hoffer conducted his experiments.4 They work by enhancing the action of GABA, a neurotransmitter that generally has an inhibitory effect on our nervous system. This leads to feelings of relaxation and sedation.
Benzos don't directly stop the psychedelic effects as they don't interact with the 5-HT2A receptor, primarily responsible for the effects of classical psychedelics. Instead, they provide relief during a trip by making a person feel less anxious, and can do so rapidly within 10 to 15 minutes. This relaxation can also manifest as drowsiness, dizziness, and decreased alertness.
Valerian
The same mechanism of action – the enhancement of GABA – is thought to underlie Valerian's potential to stop an ongoing trip.5 Valerian is a flowering plant that people have used to treat insomnia and anxiety for centuries. However, research on its efficacy is mixed, with a comprehensive review finding no effects on anxiety.6
Online shops that sell psychedelic-related materials tout Valerian as a trip stopper, though they also point out that having a "trip killer" at the ready might be doing most of the work here.7 In other words, knowing that there is something to stop a trip may help prevent a bad trip in the first place.
Antipsychotics
Atypical antipsychotics such as quetiapine and olanzapine are partial antagonists of the 5-HT2A receptor.8 They also act as antagonists for dopamine, histamine, and adrenergic receptors. As a result, their use is associated with dizziness, sedation, and dry mouth, among other side effects. Though antipsychotics are the first group of trip stoppers to abort a psychedelic trip by directly competing for 5-HT2A binding, their lack of specificity presents tolerability issues and the potential for serious side effects.
Hello old friend; ketanserin finds another use case
Ketanserin is an antihypertensive drug that acts as an antagonist of the 5-HT2A receptor.9 The selective antagonism of the 5-HT2A receptor has made ketanserin a useful molecule for researching the effects of psychedelics.
In a seminal paper by Vollenweider and colleagues, ketanserin was used to elucidate that psilocybin's psychedelic effects are modulated through the 5-HT2A receptor.10 Pretreatment with ketanserin (40 mg) prevented the acute effects of psilocybin. Half this dose (20 mg) reduced subjective psychedelic effects by 50-70%. In the same trial, the atypical antipsychotic risperidone (1 mg) also effectively blocked the psychedelic effects. The typical antipsychotic haloperidol, which acts primarily as a dopamine antagonist rather than targeting 5-HT2A, reduced scores on the subscale of oceanic boundlessness but not other psychedelic effects.
It was long understood that ketanserin could thus prevent the onset of psychedelic effects. Experiments with LSD, psilocybin, and ayahuasca showed that pretreatment with ketanserin would prevent the manifestation of typical psychedelic effects.11,12,13
Nonetheless, not all of the effects of psychedelics are blocked by ketanserin. A study where participants received up to 200 µg of LSD found that ketanserin didn't prevent the increased emotional empathy experienced by participants.14 Nor did ketanserin affect the reduced attentional tracking (a computer-based measure of attention) induced by psilocybin.15 In both instances, the authors argue that these effects are not mediated by the 5-HT2A receptor and are thus not influenced by pretreatment with ketanserin.
In all these experiments, ketanserin was given before a psychedelic was administered. If a psychedelic molecule was already activating its target receptor, would it still be possible to stop the trip? Evidence from atypical antipsychotics would suggest yes, but until recently, this hadn't been tested with ketanserin.
What about ketanserin after LSD?
A study by Anna Becker and colleagues confirmed that giving ketanserin (40 mg) after LSD administration (100 µg) can stop a trip.16
Ketanserin was given one hour after LSD and reduced the total length of the trip from 8.5 hours to 3.5 hours, a 60% reduction.
For most participants, the psychedelic effects started declining after one hour, and within 2.5 hours after ketanserin administration, nearly all of them were back to baseline.
Though not as rapidly acting as benzos and atypical antipsychotics, ketanserin was well tolerated by the participants and even significantly reduced tiredness associated with LSD. The authors posited that ketanserin could be given anytime during a trip, winding down the psychedelic effects within 2 to 2.5 hours.
The study, conducted at the University of Basel, was started in 2020. Around this time, MindMed bought the commercialization rights to the research and spoke extensively about a Trip Neutralizer technology. The company attempted to patent this intervention to stop an ongoing trip in 2021, but has since toned down claims related to the technology due to questions around its patentability.17
The value of stopping a trip
Stopping a trip that has devolved into experiencing endless suffering has value. Acutely, it can help someone feel grounded again. Knowing that something is available to stop a trip also may help people feel safer and prevent a bad trip from occurring in the first place.
Ketanserin is another tool that makes this possible, though not as quickly as with benzos or atypical antipsychotics. The value for drug developers may lie in shortening a psychedelic trip, without reinventing the molecules to do so. However, whether shortening a trip will dampen potential therapeutic effects – that is a question we will likely only have the answer to in years to come.
Comments