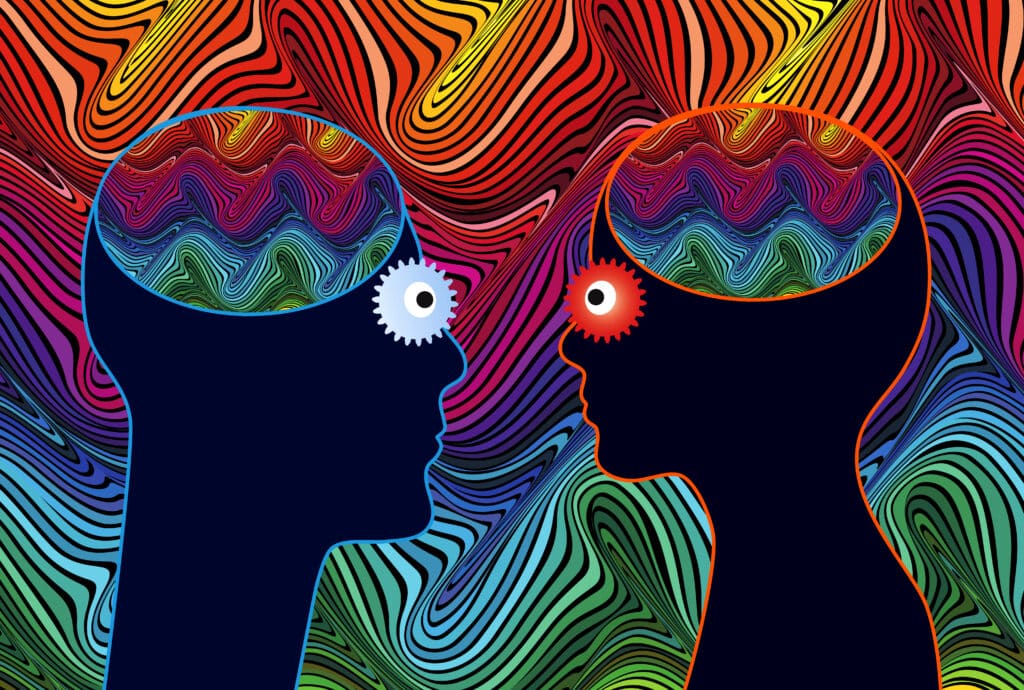 One and Done: Rapid Therapeutic Effects of Psychedelics
Clinical interest in the use of psychedelic drugs for the treatment of psychiatric disorders has recently exploded, with researchers testing the effects of compounds like LSD and psilocybin on patient populations that are resistant to traditional pharmacotherapies.1-4 The profound alterations in consciousness, sensory perception, and emotional state elicited by psychedelics depends on the ability of these drugs to bind to and activate the 5-HT2Areceptor.4-6 Further, activation of this receptor with specific research chemical agonists like DOI confers therapeutic effects in animal models relevant to human disorders like depression, anxiety, and addiction.7-9
The hallucinogenic properties of naturally-occurring psychedelics and their synthetic analogs can be modeled in mice using the head-twitch response (HTR), which reliably correlates with 5-HT2A activation and serves as a behavioral proxy of the "psychedelic trip" experienced by humans.10-12 Pharmacological blockade of 5-HT2A receptors reduces the psychedelic-induced HTR response in rodents and suppresses the subjective effects of psychedelics in human participants.10-13 Although not established indisputably, 5-HT2A receptor activation and downstream neural plasticity may be necessary for many of the therapeutic effects of psychedelics as well.9,13
Losing Reception: Mechanisms of Drug Tolerance
The 5-HT2A receptor, the primary target of psychedelics, is a G-protein coupled receptor (GPCR).4,13 This family of receptors includes the targets of many other psychoactive drugs, including stimulants and opioids.14,15 As with other GPCRs, 5-HT2A receptors are subject to processes like upregulation and downregulation in response to drug exposure or experience.15-26 The process of receptor downregulation following repeated drug exposure engenders a state of drug tolerance, characterized by an attenuated response to the same amount of drug.14,24-26
Opioid tolerance is perhaps the best studied form of drug tolerance, and develops after repeated exposure to commonly used opioids.14,15 Opioid tolerance reduces both the analgesic and euphoric effects of opioids, limiting their therapeutic or recreational effects at the same dose and thus requiring dose escalation to achieve the desired effects.15 Opioids target a GPCR known as the μ opioid receptor (μOR), which are internalized after repeated activation through signaling pathways that occur inside cells and involve proteins called arrestins.14,15 Because most commonly used opioids target the μOR, chronic exposure to an opioid like oxycodone would also produce "cross-tolerance" to other opioids like morphine, even if the person had never taken morphine before.14,15
There is some evidence of tolerance and cross-tolerance to psychedelics, but many of these studies did not meet present day methodological standards and questions remain about the mechanisms that might be involved.16-26 Moreover, while arrestins are typically conceptualized as simple "chaperones" that internalize GPCRs to bring them offline after prolonged activation, their intracellular signaling capacity is in fact much more complex.14,15 For instance, arrestins like ꞵ-arrestin-2 (ꞵArr2) can act as a "scaffold" for a broad range of proteins that control transcriptional and translational programs important for neural plasticity.14  Further study of how psychedelics alter 5-HT2A receptor expression and initiate 5-HT2A-dependent adaptations in neurons may be clinically important, as these same changes may underlie the therapeutic effects of these drugs.9,13,24-26
Question and Approach
In a new study, de la Fuente Revenga and colleagues set out to investigate the development of tolerance and cross-tolerance to multiple chemical classes of psychedelics by using the phenethylamine DOI and the ergoline LSD in mice with the HTR model of drug effects.27 For comparison, they also tested the effects of the non-psychedelic 5-HT2A agonist lisuride on tolerance and cross-tolerance to DOI and LSD.27  In addition, the researchers examined the effects of 5-HT2A receptor blockade with the specific antagonist M100907 on the development of psychedelic tolerance, as well as the effect of genetic of ꞵArr2 using special ꞵArr2 knockout (ꞵArr2 KO) mice.27,28
Major Findings
Tolerance to DOI and LSD as assessed by the HTR in mice revealed diminished responses to both drugs following repeated once-daily exposure (both 24 hours and 4 days after), suggesting that psychedelic drugs induce rapid drug tolerance. This phenomenon was accompanied by a ~50% downregulation of 5-HT2A receptors in the frontal cortex of mice 24 hr after DOI exposure, as measured by a binding assay of receptor density.
Diminished responses to DOI following repeated LSD exposure, but not lisuride, indicate that cross-tolerance develops only for the psychedelic 5-HT2A agonists.
Blockade of the 5-HT2A receptor with the antagonist M100907 predictably reduced the initial HTR response elicited by DOI, but also reduced the  development of tolerance after repeated exposures. However, in the absence of the antagonist, tolerance to DOI in the HTR assay could be overcome by doubling the dose on test day.
Development of drug tolerance to DOI was unchanged in ꞵArr2 KO mice, indicating that downregulation of 5-HT2A receptors and reduced sensitivity to DOI do not depend on ꞵArr2 signaling.
Psychedelic Tolerance: Big Picture and Clinical Implications
This elegant, detailed study by de la Fuente Revenga and colleagues establishes that psychedelic 5-HT2A agonists produce tolerance and cross-tolerance after repeated exposures, and sheds light on biological targets that are required or dispensable for this phenomenon. The finding that lisuride, a 5-HT2A agonist devoid of hallucinogenic potential, does not elicit cross-tolerance is fascinating, but further studies are necessary to clearly delineate the molecular differences in drug binding and 5-HT2A receptor dynamics responsible for this difference.3,9,13,28
Downregulation of 5-HT2A receptors in the frontal cortex after DOI exposure, observed in this study as well as in previous studies, corroborates that reduced availability of this receptor likely contributes to psychedelic tolerance as part of a homeostatic response.24-27 Second-generation antipsychotic drugs like clozapine and quetiapine block the 5-HT2A receptor as antagonists but still reduce the availability of this receptor.29 Thus, homeostatic downregulation of 5-HT2A receptors elicited by psychedelics (agonists) or antipsychotics (antagonists) could indicate partially overlapping common therapeutic mechanisms between these disparate drug classes.4,9,13,29 Lastly, the finding that psychedelic tolerance is independent of ꞵArr2 signaling raises interesting questions about novel, atypical signaling pathways that regulate the expression of the 5-HT2A receptor.14,30 Future studies aimed at answering these questions will be important to establish a clear model of the mechanism of action of psychedelics in the context of treating psychiatric disease.1-4
Comments