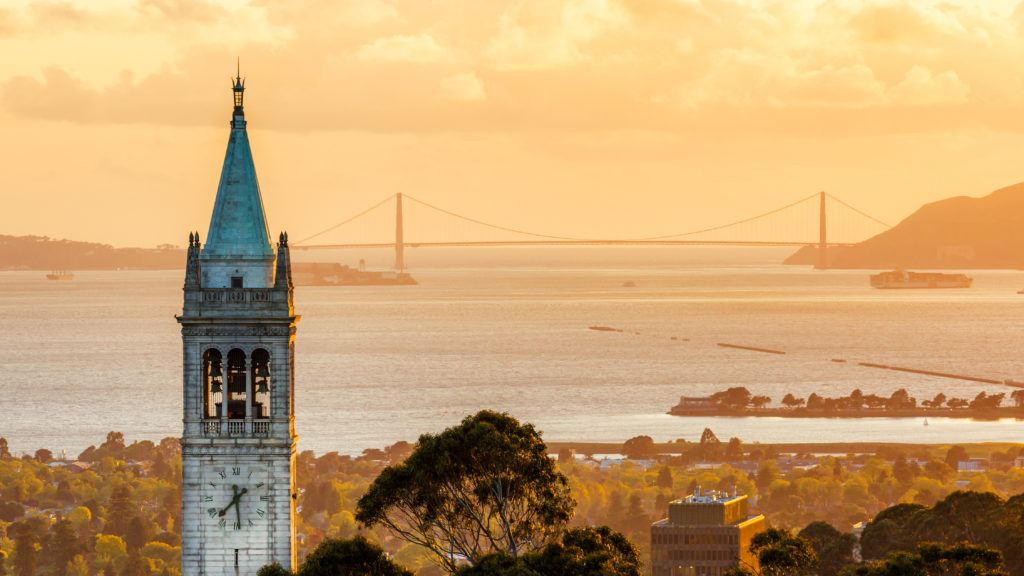 The times they are a-changin'. Again. First came Imperial College London's Centre for Psychedelic Research in April 2019. Then there was Johns Hopkins Medicine's $17 million Center for Psychedelic and Consciousness Research. And as of last week, we have the Center for the Science of Psychedelics at the University of California Berkeley, a public institution with a particularly rich relationship to psychedelic drugs.
A press release from Berkeley News announcing the new center reads,
Fifty years after political and cultural winds slammed shut the doors on psychedelic research, UC Berkeley is making up for lost time by launching the campus's first center for psychedelic science and public education.
Launched with $1.25 million in seed funding from an anonymous donor, the new center will use psychedelics — initially psilocybin — to research cognition, perception, and emotion, and their biological bases in the human brain.
"There's never been a better time to start a center like this," said UC Berkeley neuroscientist David Presti, one of the center's founding members, in the press release.
Complementing the Work Being Done in Clinical Trials
Research at the new center will complement but not imitate ongoing clinical trials at Johns Hopkins and Imperial College that are combining the administration of psilocybin and other psychedelic compounds with psychotherapy to treat mental disorders including anxiety, depression, post-traumatic stress disorder, and substance abuse.
Instead, the UC Berkeley center will focus on healthy study participants in order to learn more about brain mechanisms behind the efficacy of psychedelic compounds in treating mental health disorders. It will also investigate the ability of these compounds to improve cognitive flexibility, alter visual perception, engender feelings of awe, and change patterns of brain activity.
Michael Pollan Heading Public Education Programs
The center will include a robust program for educating the public about psychedelic science and research. This educational arm of the center will be helmed by UC Berkeley professor of journalism Michael Pollan, another of the center's founders.
Through his 2018 bestseller How to Change Your Mind and subsequent interviews and speaking engagements, Pollan has used his credibility as an accomplished author and journalist to help remove some of the stigma associated with psychedelic drugs — a stain that seems to be dissipating by the day. His book was cited as one of the inspirations for the center. Pollan stated in the press release,
We're really interested in what psychedelics can teach us about consciousness, perception, creativity, and learning. Psychedelics have a particular value later in life, because that is when you are most stuck in your patterns. They give you the ability to shake them loose.
Research Using Healthy Volunteers & Training Guides
Another unique aspect of the center is its plan to explore ways of supporting healthy volunteer research participants as they undergo psychedelic experiences in the center's studies.
To do this, the center will collaborate with an independent consortium of religious schools and theological institutes in Berkeley and the larger San Francisco Bay Area to develop an immersive learning program in psychedelics and spirituality. This program will eventually train guides in the cultural, contemplative, and spiritual dimensions of psychedelics, working in partnership with the center's research studies.
"The training of facilitators is an indispensable part of this project," said co-founder Sam Shonkoff in the press release. Shonkoff is an assistant professor of Jewish studies at the Graduate Theological Union in Berkeley.
UC Berkeley neuroscientist Michael Silver will serve as the inaugural director of the center. Other co-founders include UC Berkeley psychologist Dacher Keltner, who studies the mental and physiological benefits of awe, and healer Celina De Leon, who has a master's degree in divinity from the Graduate Theological Union and expertise in the ritual use of psychedelic plants.
Comments