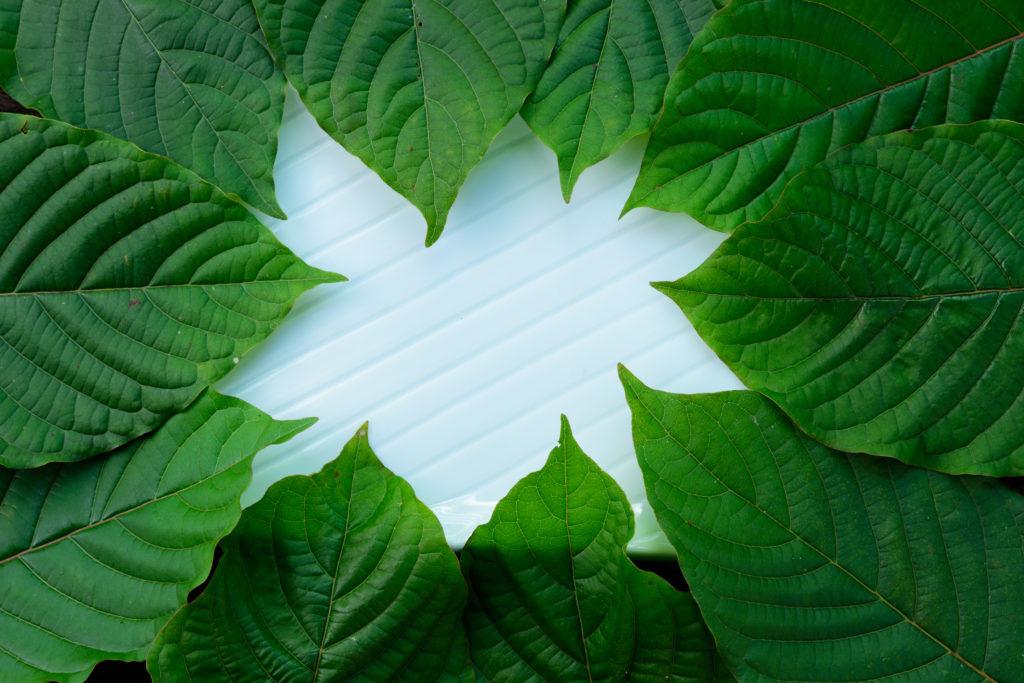 Kratom is a plant known scientifically as Mitragynia speciosa. It is a species of tree that grows in Southeast Asia and Africa.1 People who live in these areas use kratom in traditional medicine and spiritual practices. Also, at low doses, kratom is a stimulant. Many people use it to increase their endurance while working. In certain countries like Thailand, kratom use is considered a way of life that is embedded in local customs and traditions.2
There are over 40 compounds in kratom leaves.1 Some are biologically active, some are not, and the activity of dozens of them is unknown. Some of the major compounds in kratom are mitragynine (the primary compound), 7- hydroxymitragynine (7-OH), and paynantheine (Figure 1).1,3
Hooper was the first to isolate mitragynine in 1907.4  Its crystal structure was determined 1965.5
A 2013 review article says that mitragynine comprises about 66% of the alkaloids in kratom extract.6 Mitragynine is followed by paynantheine (9%), speciogynine (7%), and 7-OH (2%). More than a dozen other alkaloid compounds are present at <1%.
Several studies have examined the metabolic fate of mitragynine in rats and humans.7–12 Using this previous work, Philipp et al. proposed metabolic pathways for the breakdown of mitragynine in rats and humans in 2011.1
The Effects of Some Compounds in Kratom
Studies have shown that the analgesic effects of kratom depend on the route of administration. The potency of mitragynine was similar to codeine in several species when it was administered orally or interperitoneally.14 However, it did not have an analgesic effect in rats and mice when given subcutaneously.
To explain this phenomenon, the authors of the study suggested that mitragynine was converted to an active metabolite during first-pass metabolism after being given orally or intraperitoneally. Thus, perhaps the analgesic effects were due to a metabolite of mitragynine and not mitragynine itself. However, another study found that mitragynine elicited its analgesic effects when administered directly into the cerebrospinal fluid in the brain, which would eliminate most of the effects (if any) of first-pass metabolism.15
At higher doses, kratom extracts can as an analgesic.3 It is also used to treat opium withdrawal symptoms including in self-treatment.16 Kratom is also used for relieving fever, diarrhea, depression, and anxiety.17–21 In addition, kratom extracts are known to have antimicrobial, antioxidant,22 and anti-inflammatory23 properties.
Studies show that raw kratom extract has analgesic effects in rodents.23–27 Also, these studies indicate that mitragynine by itself has analgesic effects in several species.
Studies indicate that 7-OH also has analgesic effects. This activity may happen via hMOR. Moreover, researchers have found that 7-OH is more potent at hMOR than morphine.15,28
The Receptors Involved in Eliciting the Effects of Kratom
The opioid receptors are the primary target of mitragynine and other compounds found in kratom extracts. Mitragynine also binds to several other receptor types, including dopamine D2, 5-HT2C, and 5-HT7.16
Both mitragynine and 7-OH are partial agonists at the human mu-opioid receptor (hMOR).29,30 The data indicate that 7-OH has greater potency than mitragynine. Also, the binding affinities (Ki) of mitragynine and 7-OH at hMOR are 233 nM and 47 nM, respectively.
Mitragynine and 7-OH act as competitive antagonists at the human kappa (hKOR) and delta (hDOR) receptors. However, studies show that their antagonist activity at hDOR is weak.29
More Research is Needed on Kratom and Its Constituents
It is unclear at this time how much if any, the serotonin 5-HT2A receptor (the one that is activated by the classic psychedelics) is involved in the effects of kratom compounds. It is likely that the combination of effects from several different types of receptors results in the overall effects that the user experiences from kratom.
Comments