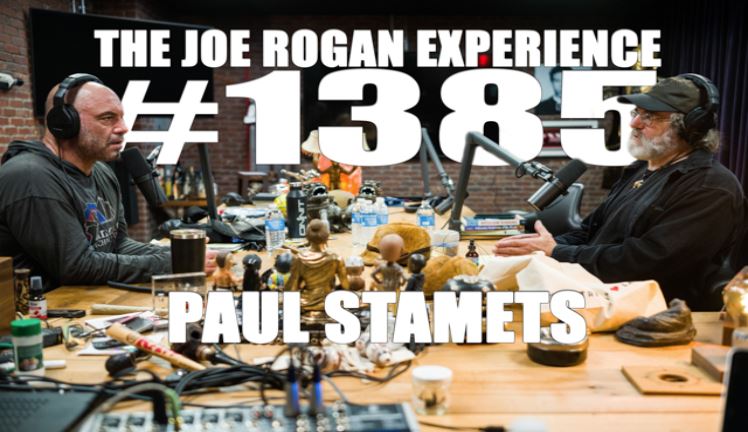 Joe Rogan recently interviewed the world-famous mycologist and expert on magic mushrooms, Paul Stamets in Joe Rogan Podcast #1385. Stamets and Rogan talked about the state of the art in psilocybin in 2019 and the unmet need for studying all of the psilocybin analogs in magic mushrooms moving forward.
Paul Stamets is well known as the author of multiple books on psilocybin-containing mushrooms including Psilocybin Mushrooms of the World: An Identification Guide. He's also the world's expert on magic mushrooms (aka psychedelic mushroom or psilocybin mushrooms).
In the interview, Stamets explained to Rogan that psilocybin is only one of many active molecules in magic mushrooms. He also said that psilocybin is just "the tip of the proverbial iceberg" as evidenced by the many unstudied psilocybin analogs or derivatives. Stamets recognizes that (as of 2019) virtually no work has been done with magic mushroom actives other than psilocybin. To date, all of the scientific focus has been on psilocybin. PSR has reported on several of these studies including Scientists Engineer E. Coli to Produce Psilocybin, Johns Hopkins Starts Psilocybin Clinical Trial to Treat Anorexia Nervosa, and Study Confirms Psilocin Binding to 5-HT2A Causes Psilocybin Psychedelic Experience.
The Future of Psychedelic Mushroom Research According to Paul Stamets
Stamets explained in the interview that the "wave of the future" is making standardized formulations that include multiple psilocybin analogs, not just psilocybin. This is because combining multiple psilocybin analogs provides what Stamets calls "an entourage or symphony effect" that is not present with single active ingredients.
Showing keen insight, Stamets described the current state of the art in natural psychedelic compounds and the challenges that need to be overcome:
The problem with natural products is how do you standardize them to the active constituent when you have more than one active constituent, you know, how do you standardize them all? How do you combine them?
Stamets notes that "[t]here's a whole new landscape that gets away from single molecules [like pure psilocybin] and into the complexity of nature we can build upon." He concedes that "shift[ing] people's ideas about how we view psilocybin, how we view the analogs…is going to be a challenge."
Faced with the unmet need to start studying all of the active ingredients in magic mushrooms, Stamets suggests that "we should begin on that voyage today."
Comments