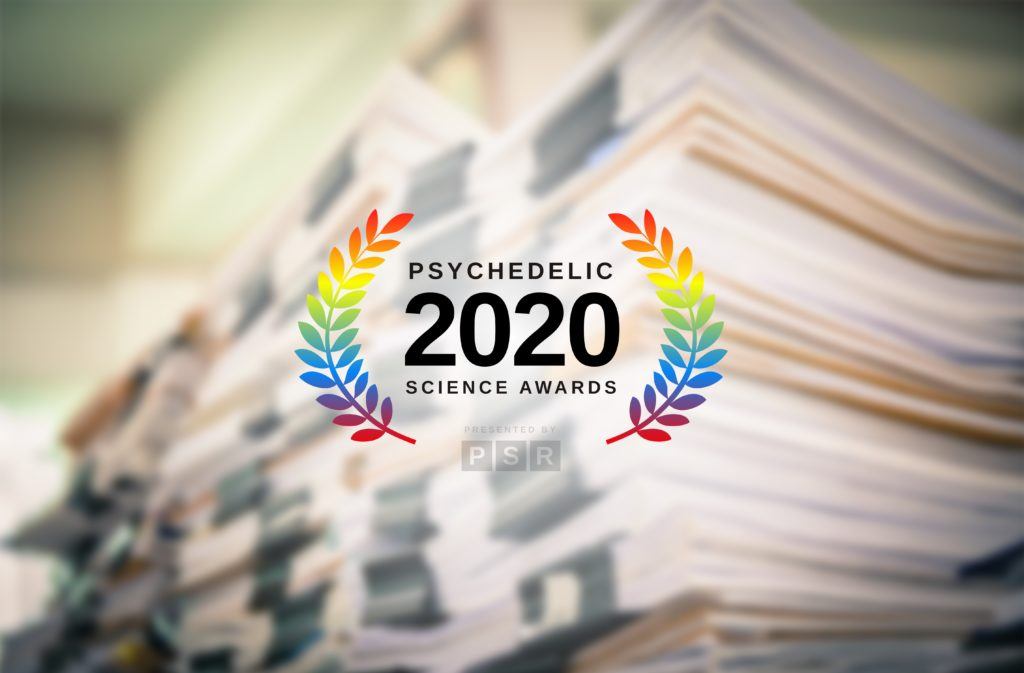 As 2020 draws to a close, Psychedelic Science Review is acknowledging the work that psychedelic researchers published this year. In 2019, we presented the Top 10 psychedelic research papers for the last 10 years. Now, we recognize the top 10 psychedelic research papers of 2020.
Selection Criteria
Finding the top 10 psychedelic papers of 2020 was done using the program Publish or Perish to extract psychedelic study data from Google Scholar. Searching was done using the keywords "psychedelic" or psychedelics" in the title from January 1st to November 23rd, 2020.
Readers should note that a high citation count for a paper does not necessarily mean a high-quality study. A quick internet search reveals there are several ways to artificially inflate the citation count of scientific papers. Conversely, there are likely current ground-breaking psychedelic papers that did not make the top 10 list for 2020 because they were published toward the end of the year and do not have enough citations yet.
This top 10 list is meant to be a retrospective for general reference. The resulting list contains work done by several distinguished and respected psychedelic researchers, which adds validity to the citation counts.
Here are the top 10 psychedelic studies for 2020. Because of two tie scores, there are actually 12 studies on the list.
1. CM Reiff, EE Richman, CB Nemeroff, et al. – Psychedelics and psychedelic-assisted psychotherapy.1 (19 citations)
This research team published a summary of the literature since 2007 on treating psychiatric disorders with psychedelic compounds. Their initial search yielded a list of 1,603 articles. Further refinement of the search criteria whittled down the total to 14 studies.
Analysis of the studies revealed that MDMA and psilocybin had the most significant database of information. Reiff et al. noted that these two compounds had been given breakthrough therapy designation by the US Food and Drug Administration for treating PSTD and depression, respectively. They also observed that there was only observational information for ayahuasca and LSD. However, they added, "available evidence suggests that these agents may have therapeutic effects in specific psychiatric disorders."
2. R Watts and JB Luoma – The use of the psychological flexibility model to support psychedelic-assisted therapy.2 (18 citations)
Rosalind Watts and Jason Luoma reported in the Journal of Contextual Behavioral Science on the ACE (Accept, Connect, and Embody) model they developed for use in psilocybin-assisted psychotherapy (PcbAP). Their paper focused on describing the ACE model and how it is being used in clinical trials for treating major depression.
The authors say that ACE "serves as a framework for therapists to guide patients towards acceptance of what is challenging, connection to what is positive, and staying embodied." The model includes a basis for guided visualizations, which can be used during preparation and integration sessions and home practice. Watts and Luoma say that ACE may help usher in a new phase in psychedelic assisted psychotherapy "in which the psychotherapy component is more fully nurtured, grown, and studied."
3. AK Davis, FS Barrett, and RR Griffiths – Psychological flexibility mediates the relations between acute psychedelic effects and subjective decreases in depression and anxiety.3 (17 citations)
This study measured whether psychological flexibility was a significant factor in the relationship between a person's acute psychedelic experience and "spontaneous or intended changes in depression and anxiety." The data analysis indicated that the acute mystical and insightful effects of psychedelics had a significant association with decreases in the participants' depression and anxiety.
The authors concluded that "psychological flexibility may be an important mediator of the therapeutic effects of psychedelic drugs." They suggest that further studies include controlled trials "in order to ascertain the causal influences of psychological processes that predict therapeutic effects of hallucinogens."
4. D Nutt, D Erritzoe, and R Carhart-Harris – Psychedelic psychiatry's brave new world.4 (16 citations, tie)
This commentary/review article written by David Nutt, David Erritzoe, and Robin Carhart-Harris was published in the journal Cell. The authors discuss several psychedelic research endeavors representing "the first green shoots of recovery" in psychiatry and brain science in decades. This work, they say, "rectifies decades of global research paralysis that emerged as collateral damage from the war on drugs and that has become one of the worst examples of censorship of human research in the history of science."
In concluding, the authors offer recommendations for the next steps researcher should take. "What is now needed is a combined, multi-level, multidisciplinary program of research into the mechanisms underpinning these findings."
5. JR George, TI Michaels, J Sevelius, et al. – The psychedelic renaissance and the limitations of a White-dominant medical framework: A call for indigenous and ethnic minority inclusion.5 (16 citations, tie)
The authors of this review article bring into focus the lack of attention the psychedelic community has paid to the work of indigenous people, women, ethnic and racial minorities, and other disenfranchised people. They note that "The scientific progress and clinical promise of this [psychedelic science] movement owes much of its success to the history of indigenous healing practices."
The article discusses the historical use of psychedelic plants, the historical and sociocultural factors that have contributed to the disenfranchisement, and gives recommendations for creating a cultural focus and using an inclusive approach to ensure all research works receive proper attention. Speaking to the path ahead, the authors propose that "the psychedelic science movement has a unique opportunity to acknowledge and resist the replication of existing structures of power, thereby improving the lives of the marginalized and setting an example that can be replicated more broadly within medicine and society."
6. T Lea, N Amada, and H Jungaberle – Psychedelic microdosing: A subreddit analysis.6 (12 citations)
Researchers from Germany and Australia came together to conduct a subreddit analysis of microdosing discussions on the Reddit online forum. They gathered data for several aspects of people's microdosing experiences, including their motivations, how they managed dosing, and the overall benefits and limitations they perceived.
Some of the reported benefits of microdosing the data revealed included creative and cognitive enhancement, better mood and attitude toward their lives, and improved habits and healthy behaviors. Some negative aspects included dosing issues, side effects, and increased anxiety. In terms of future work, the authors suggested that "Standard doses of psychedelic drugs provided in therapeutic settings have potential as novel treatments for some mental health conditions, but clinical research is needed to understand if this is also the case for microdosing."
7. E Krediet, T Bostoen, J Breeksema, et al. – Reviewing the potential of psychedelics for the treatment of PTSD.7 (11 citations, tie)
This review article calls out an urgent need for alternative therapies for treating people who suffer from PTSD (post-traumatic stress disorder). To that end, the authors discuss the current research and therapeutic status of four types of psychedelic compounds, MDMA, ketamine, psilocybin, and LSD (classic psychedelics), and cannabinoids. The researchers stated, "Each compound provides unique qualities for the treatment of PTSD, from their use to rapidly target symptoms to their use as adjuncts to facilitate psychotherapeutic treatments."
Looking to future research, Krediet et al. said, "When properly applied, according to published treatment manuals, new models of substance-assisted psychotherapy may offer a valuable contribution to the spectrum of existing pharmacological and psychotherapeutic treatments for PTSD."
8. JS Aday, CM Mitzkovitz, EK Bloesch, et al. – Long-term effects of psychedelic drugs: A systematic review.8 (11 citations, tie)
In this systematic literature review, Aday et al. synthesized the data on the long-lasting effects of psychedelic drugs from 34 studies. The criteria for including studies in the data analysis were that they used human subjects, classic psychedelics, and had follow-up periods of at least two weeks. Most of the 34 studies used psilocybin and were from the last 5 years.
The authors observed that there were enduring changes in several categories, including personality, attitude, depression, and spirituality. These changes were related to the mystical experience, emotional breakthrough, connectedness, and increased neural entropy. Aday et al. concluded that "…the weight of the evidence collected to-date suggests that, in carefully screened and monitored individuals, psychedelic treatment can mediate changes in psychological functioning that are generally positive and enduring."
9. M Hibicke, AN Landry, HM Kramer, et al. – Psychedelics, but not ketamine, produce persistent antidepressant-like effects in a rodent experimental system for the study of depression.9 (10 citations)
In this study, researchers tested psilocybin and ketamine for treating depression in a rat model. The study used the forced swim test (FST) for measuring depression in the animals. After receiving psilocybin, test rats showed decreased immobility in the FST (i.e., they were less depressed) compared to controls. The authors observed that the effects lasted into the conclusion of the study at 5 weeks. Rats given ketamine showed a similar reduction in depression compared to controls, but the effects lasted a significantly shorter time, about 3 weeks.
The authors made another interesting observation. The effects of psilocybin, but not ketamine, were modulated by the setting the rats were presented with prior to dosing. They stated, "Our results suggest that psilocybin facilitates a period of behavioral flexibility in which exploration of a non-home-cage environment reduces their anxiety during future exploration of a novel environment."
10. T Noorani – Making psychedelics into medicines: The politics and paradoxes of medicalization.10 (8 citations)
This commentary article examines the "medicalization" of psychedelics into drugs for administration through the healthcare system. Dr. Noorani argues that the psychedelic community may not be ready for this transition when it is analyzed using a "normative stance on medicalization." Therefore, he conducted his analysis in the context of "a wider political, economic, and cultural context to better understand its logics and effects."
Dr. Noorani explains that "psychedelic science has been concerned with medicalization from the outset…attempts to scale up and market psychedelic-assisted therapy could end up undermining the safety and efficacy of the therapy itself." He also discusses how "working toward psychedelic medicalization over the coming years may influence the movements toward decriminalizing and legalizing psychedelics use, focusing on the underarticulated ways in which medicalization may disregard or even hinder, rather than help, decriminalization and legalization efforts."
11. M Forstmann, DA Yudkin, AMB Prosser, et al. – Transformative experience and social connectedness mediate the mood-enhancing effects of psychedelic use in naturalistic settings.11 (7 citations)
In this study published in the Proceeding of the National Academy of Sciences, Forstmann et al. analyzed the data gathered from field studies involving 1,200+ people who ingested psychedelics and attended mass gatherings in the United States and the United Kingdom. They noted that previous research has found that psychedelics can positively affect feelings, mood, and social connectedness. However, "robust and direct evidence" of these effects in a naturalistic setting is lacking.
Overall, the data indicated that "recent use of psychedelic substances in a naturalistic setting is associated with experiences of personal transformation, a sense of altered moral values, increased feelings of social connectedness, and a more positive mood."
12. LP Cameron, A Nazarian, and DE Olson – Psychedelic microdosing: Prevalence and subjective effects.12 (6 citations)
The authors of this paper, which include Lindsay Cameron and David Olson, created an anonymous online survey to gather data from psychedelic drug users. Of the 2,347 respondents, 59% were familiar with microdosing psychedelics, and 17% had engaged in the practice. Further data analysis showed that microdosing improved mood, decreased anxiety, and enhanced memory, attention, and sociability. The two main reasons respondents gave for stopping their microdosing practice were the risks of taking an illegal substance and difficulty obtaining the compounds they wanted.
In summary, Cameron et al. said that based on the data, microdosing is "relatively common." Regarding future research paths, they suggested "a thorough assessment of potential risks should be conducted. To establish efficacy, placebo-controlled clinical trials will be essential."
Comments