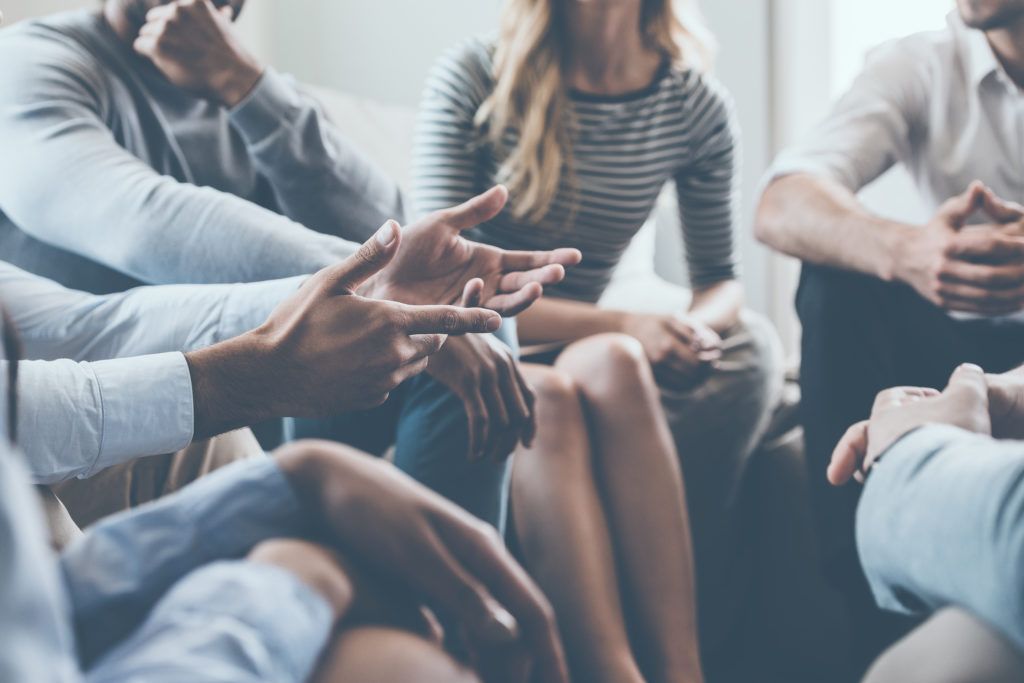 Evidence for psilocybin-assisted psychotherapy (PcbAP) continues to accumulate for treating a number of psychiatric conditions. However, the majority of modern trials studying this treatment have been time-, staff-, and resource-intensive. A significant amount of two therapists' time is required as part of pre-drug preparatory sessions, supervision during, and post-drug integration sessions.1 As a result, concerns about high costs and limited access have loomed over the potential translation to real-world clinical practice settings if it is approved. PcbAP administered in a group setting is regarded as a potential solution, though until recently, no modern trials examined whether it is feasible, safe, or effective.
Why Psychedelic Group Therapy?
Traditionally, plant-based psychedelics like psilocybin, ayahuasca, and peyote were used in group settings by various Indigenous groups for healing and religious purposes.2 This group framework was replicated in earlier clinical studies of psychedelics in the 1960s-70s, which found promising evidence in treating alcohol use disorder and neuroses, predominantly with LSD.3 However, those studies were not up to present-day clinical trial standards, thus limiting what conclusions could be drawn about the safety and efficacy of psychedelic group therapy. 
In an open-label trial of individual PcbAP for treatment-resistant depression, social connectedness was identified as a possible underlying mechanism of therapeutic change.4 Other contemporary trials' participants have requested to meet other trial subjects, as well as corroborating the importance of connecting with those who have undergone the challenging-to-describe psychedelic experience.3 These results suggested that psychedelic group therapy may improve therapeutic outcomes and participant satisfaction.
The historical use, previous research, and more recent findings, combined with the cost-saving potential, pointed to the need to explore the psychedelic group therapy model more rigorously. A research team led by Brian Anderson, MD from the University of California San Francisco, therefore, conducted a pilot study to explore the feasibility, safety, and potential efficacy of psilocybin-assisted group therapy.5 
Older, Long-Term AIDS Survivors and Demoralization
This trial examined a marginalized population unique to psychedelic therapy: older, long-term AIDS survivors (OTLAS) suffering from demoralization. Demoralization, a prevalent response to serious medical illness, is a form of existential distress characterized by poor coping and feeling hopeless, helpless, and without meaning or purpose.5 These individuals were diagnosed with HIV/AIDS when it was considered a terminal diagnosis and lived through the overwhelming loss of loved ones, resulting in demoralization. The average age of participants included in the study was 59.2 years. This population also has complex past medical and psychiatric histories, reflected in 50% of the trial participants meeting criteria for a comorbid mental health condition (e.g., anxiety disorder, panic disorder, and borderline personality disorder).6
Study Design
In this single-arm, open-label trial, 18 self-identified gay men suffering from moderate to severe demoralization were enrolled into three cohorts of six. Participants met as a group on four occasions led by two therapists, before receiving a single, individual psilocybin (0.3-0.36 mg/kg) session. Four to six more group therapy sessions occurred after the psilocybin administration to integrate their experiences. 
The feasibility was determined by rates of recruitment and retention of enrolled participants. Safety was evaluated with multiple measures and categorized by the severity and rate of any adverse events. The primary clinical outcome was the change in demoralization, assessed by the self-reported Demoralization Scale-II (DS-II), from baseline to end-of-treatment and at a 3-month follow-up. Various secondary clinical outcomes were measured due to the complex psychiatric needs of OLTAS, most notably related to trauma and unresolved grief. 
Study Findings
Rates of recruitment were high, and attendance to group therapy was 95%, attesting to the feasibility. It is important to note the participants were highly motivated, either on disability or retired, and had flexible schedules to attend group meetings. If the 18 participants received their therapy in the standard 1:2 subject to therapist ratio used in other psilocybin studies, a total of 954 therapist hours would be required. Because of the group therapy format, that time was reduced almost in half, down to 472 hours. 
Despite a study population with greater psychiatric comorbidity than any other modern psilocybin trial, the treatment was found to be relatively safe. No psilocybin-related serious adverse events occurred, and two unexpected adverse reactions were detected during post-medication visits (post-traumatic stress flashback and methamphetamine relapse). Fourteen of 18 participants experienced moderate-to-severe expected psilocybin-related adverse reactions that resolved by the end of the administration session. While this is a relatively high adverse event rate, the researchers suspect it is partly related to the clinical complexity of the study population. The most common of those were high blood pressure (67%), anxiety (44%), and nausea (33%). 
Demoralization scores were reduced from baseline at both end-of-treatment and at the 3-month follow-up, by an average of 6.67 (SD=6.51) and 5.78 points (SD=6.01), respectively. To put those results in context, the demoralization scale totals 32 points and a 2-point improvement is considered clinically meaningful. A >50% reduction in demoralization compared to baseline was found in 50% of participants at end-of-treatment and 33.3% at 3-month follow-up. Secondary measures related to trauma and grief also showed significant reductions over that time period. 
Future Research Directions
While this pilot study demonstrated the feasibility, safety, and potential efficacy of psilocybin-assisted group therapy in treating demoralization among OTLAS, the results cannot be considered conclusive due to its small sample size and single arm, unblinded design. Larger, randomized, placebo-controlled trials are needed to confirm these promising results. An accompanying qualitative paper with the patients' perspectives on the group therapy process is expected and can potentially corroborate the value of a group framework.
The results open the door to future studies assessing psilocybin-assisted group therapy in other populations where demoralization is present, such as those with substance use disorders, chronic pain, obesity, and the elderly.6 The social isolation, shame, and stigma associated with a variety of mental health conditions can be uniquely addressed with group therapy. The trailblazing pilot trial by Brian Anderson and colleagues lays the groundwork for combining that unique capability and the social connectedness brought on by psilocybin and may prove useful to improve access and lower costs should it become an approved treatment.
Comments