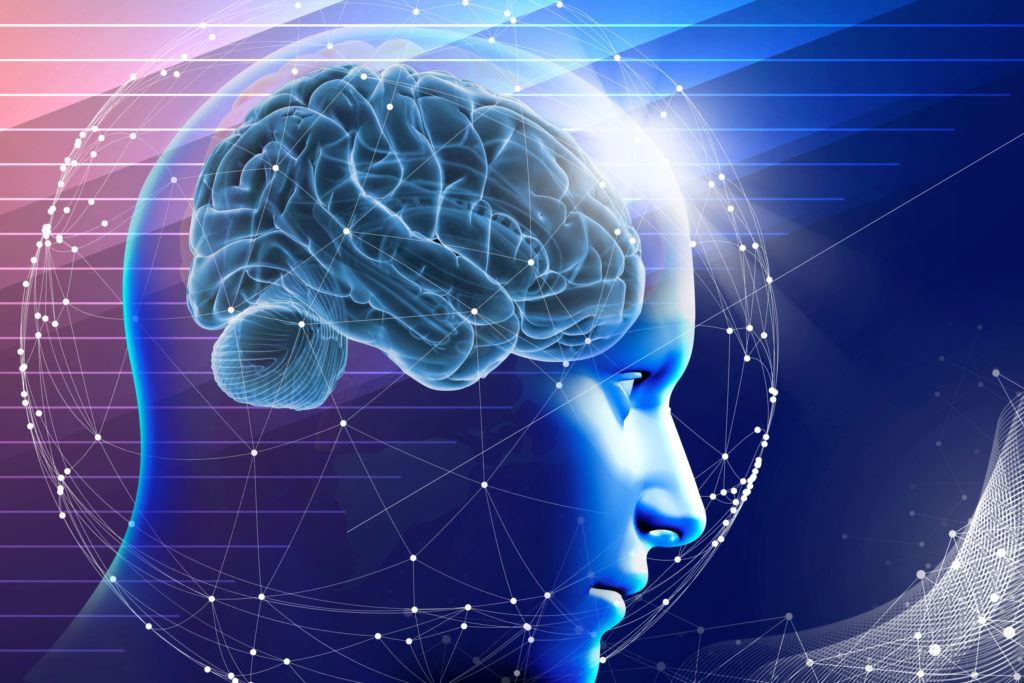 The serotonin 5-HT1A receptor was the first of the serotonin receptors to be cloned and characterized by researchers.1 In 1979, Peroutka and Snyder found differing potencies for radioactive serotonin and the antipsychotic drug spiroperidol in the rat frontal cerebral cortex.2 They proposed that this indicated two distinct receptors, which they named 5-HT1A and 5-HT2A.
The Structure of 5-HT1A
Experiments conducted in the late 1980s and early 1990s led to uncovering the amino acid sequence of both the rat and human 5-HT1A receptor.3–5 The rat receptor has 89% homology with humans.
As a GPCR (G protein-coupled receptor), 5-HT1A has a characteristic form consisting of seven membrane-spanning alpha-helices6 (Figure 1). The helices are separated by alternating sections of the receptor that form intracellular and extracellular loops.
The Distribution of 5-HT1A Receptors
The 5-HT1A receptor is found densely populating the limbic areas in the brain, particularly in the hippocampus, lateral septum, cortices, and the dorsal and median raphe nuclei.8 Also, 5-HT1A binding sites are almost non-existent in the cerebellum and basal ganglia. Figure 1 shows the distribution across the body and in the brain.
How Do 5-HT1A Receptors Work and What Do They Do?
A classification system created by Nichols and Nichols groups serotonin receptors based on their primary signaling mechanism.1 According to the system, 5-HT1A belongs to the group known as Gi/o coupled receptors. Gi/o proteins are signaling proteins that couple to the 5-HT1A receptor to elicit a response.
Inhibition is one effect of the activation of Gi/o coupled receptors such as 5-HT1A.1 For example, stimulation of 5-HT1A inhibits the enzyme adenylate cyclase. This enzyme catalyzes the formation of cAMP (cyclic adenosine monophosphate, a second messenger chemical) from ATP (adenosine triphosphate). As a result, cAMP levels decrease, which interrupts cellular signaling.
In the world of neurons, 5-HT1A receptors are present on raphe neurons, both pre- and postsynaptically. When the receptor is activated at either location, it causes hyperpolarization, and the firing rate of the neuron is reduced (i.e., there is inhibition).10 The hyperpolarization happens via the opening of potassium ion channels in the cell membrane.11,12 Research indicates that the inhibition of 5-HT1A also happens indirectly by the stimulation of inhibitory GABA (gamma aminobutyric acid) neurons.
There is a myriad of physiological effects that arise from the activation of the 5-HT1A receptor. Table 1 summarizes some of them.
Table 1: Summary of responses resulting from 5-HT1A receptor activation in the brain. Post = postsynaptic, Pre = presynaptic, (-) = inhibitory effect, (+) = excitatory effect. Reproduced from Barnes and Sharp 1999.
| Level | Response | Mechanism |
| --- | --- | --- |
| Cellular | Adenylate cyclase (-) | Post |
| Electrophysiological | Hyperpolarization | Post |
| Behavioral | Serotonin syndrome | Post |
| | Hypothermia | Pre/Post |
| | Hyperphagia (increased appetite) | Pre |
| | Anxiolysis (inhibits anxiety) | Pre/Post |
| | Sexual behavior (+) | Pre/Post |
| Neurochemical | Serotonin release (-) | Pre |
| | Noradrenaline release (+) | Post |
| | Acetylcholine release (+) | Post |
| | Glutamate release (-) | unknown |
| | Adrenocorticotropic hormone (+) | Post |
| | Prolactin (+) | Post |
In terms of mental health, the 5-HT1A receptor may have roles in anxiety, the action of selective serotonin reuptake inhibitor (SSRI) drugs, schizophrenia, Parkinson's disease, addiction, and protection against ischemic brain damage (see Nichols and Nichols 2008 for a comprehensive review). A 2009 study suggests the receptor may be involved in major depressive disorder and other stress-related disorders.13
Is 5-HT1A Involved in the Psychedelic Effect?
A literature review done by Halberstadt and Geyer in 2011 concluded that 5-HT1A receptor activation by indoleamines hallucinogens might elicit significant changes in behavior.14 The evidence for this comes mostly from drug discrimination studies in rodents and also research into changes in their investigative and exploratory behavior under the influence of indoleamine hallucinogens. For example, a 2010 study indicated that 5-MeO-DMT and psilocin decrease locomotor activity in mice and that this effect is mediated by the 5-HT1A receptor.15 Using receptor antagonists, the authors concluded that 5-MeO-DMT and psilocin act as mixed agonists at 5-HT1A and 5-HT2A.
Over the years, there has been accumulating experimental evidence indicating that the effects of 5-MeO-DMT are mediated via the 5-HT1A receptor.16-24 Also, there are studies showing that 5-HT1A may also be critical to the effects of LSD (lysergic acid diethylamide).25,26
The phenomenon known as allosteric modulation may have a role in the contribution each serotonin receptor makes to the overall effects of psychedelics. The behavior of GPCRs is modulated by many things, including neurotransmitters, hormones, and ions, to name a few.27 On top of the impact that comes from these physiological influences, psychedelics may also be modulators of GPCR function resulting in an entourage effect similar to the compounds in cannabis.
Comments