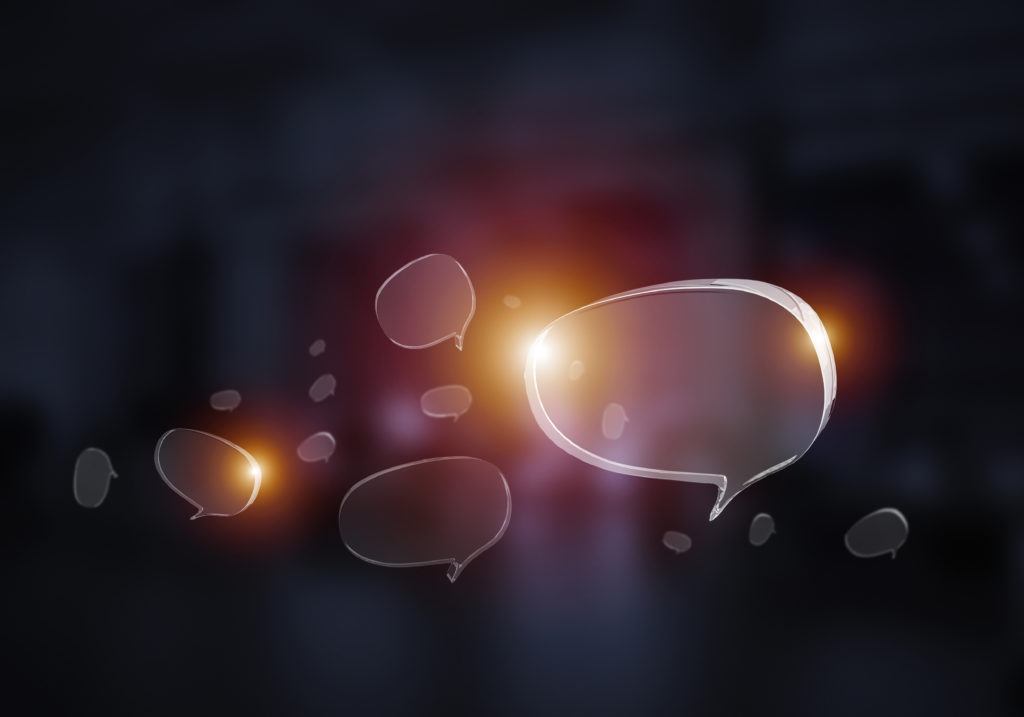 Language is the basis for human communication, beliefs, and customs constituting what we define as a culture.1 Apart from the fact that it is culturally acquired and develops as individuals grow, not much is known about how the brain precisely behaves during language acquisition.2 However, it is clear now that spontaneous thought can be assessed by the analysis of natural speech, which is also a reliable biomarker for neuropsychiatric conditions, especially those with psychotic symptoms such as schizophrenia.3–5 
Even while unaware of external stimuli and not engaged in an explicit task, the human brain is working hard to keep several connections tight and functional within resting-state networks, such as the default-mode network (DMN).6  Altered states of consciousness depend on breaking these default patterns to allow connections between brain regions that otherwise would be working isolated.7 This disorder-prone malleability is called brain entropy, which reflects directly on behavior. Given that psychedelics make profound changes in consciousness and expand the repertoire of brain configurations,8,9 speech analysis can be extremely informative about the relationship between mental processes and brain physiology under the effects of these drugs. 
The Effect of Psychedelics on Natural Speech
Since the 1960s, researchers have been reporting that psychedelics affect language by making speech less predictable.10,11 Indeed, the content of descriptive self-reports written after psychedelic experiences had such well-defined patterns of alteration that algorithms could detect them and distinguish between different psychedelic drugs.12
In one early study, psilocybin was shown to de-focus semantic networks in speech, and significantly enhance free association.13 Likewise, ketamine was demonstrated to alter speech, producing a disordered pattern.14,15 Also, repetitiveness was increased in speech after a subanesthetic ketamine dose, which is comparable to the pattern observed in schizophrenic patients.16 MDMA is not a classic serotonergic psychedelic but it is a big part of the current wave of scientific psychedelic resurgence. Researchers have studied the effects of the compound using speech evaluation.17 These data showed that despite not altering speech structure, MDMA affected the meaning of speech in a manner that could be directly related to its prosocial effects.  
Several other reports across the years have examined mainly the amount of speech a person uses during intoxication by different drugs.18,19 However, this approach provides very few insights about the mental processes behind verbalization, since it does not evaluate the content of speech. Also, there are very few precise tools to capture the vast combination within the human system for vocal communication. For this reason, speech parameters had not been objectively quantified until now by modern scientific approaches under the effects of psychedelics. 
Today, there are many tools available for speech analysis using computational machine learning algorithms. In addition to the amount of discourse, these approaches allow researchers to transform words or phrases from the spoken vocabulary into vectors of real numbers, which can be mathematically calculated. Thereafter, these data are organized in an index that makes possible quantitative evaluations about the meaning of speech.20 The so-called speech disorganization index is shown to distinguish accurately maniac-bipolar from schizophrenic patients and also to predict the influence of drugs such as MDMA.3-5,17 
LSD's Acute Effects on Speech Entropy
Recently, a multidisciplinary international team of researchers hypothesized that language would show increased entropy and reduced coherence in a study where participants were given a 75 μg dose of LSD.21 In fact, the data indicated verbosity was increased and lexicon was decreased. This means that a rise in word count and a decrease in the size of vocabulary, respectively, were observed. Moreover, the authors performed a detailed content analysis that showed increased semantic variability. This means there were more sudden changes of the subject matter with apparently reduced coherence in the discourse of participants under LSD when compared to placebo. In other words, LSD narrowed the participants' vocabulary but enriched the diversity of topics covered. 
In the same study by Sanz et al., a distinct trend was observed where participants used more words related to "perception" during the early acute phase of LSD. This was followed by a semantic similarity to "reality," "ego" and "fear" approximately four hours after drug administration. Although increased entropy of brain activity is often attributed to serotonergic stimulation (specifically through 5-HT2A receptor),22 the authors hypothesized that the biphasic pattern of acute LSD effects on semantic content may reflect a dopaminergic component in later observations. 
Disorganized natural speech (i.e., increased entropy of speech) is a landmark feature of the psychedelic state. Mota et al. argue that these results could be interpreted as support for the hypothesis that psychedelics induce a transient state of psychosis since high entropy is a common finding in psychotic episodes.20 However, the disorganization of speech seems to have remarkable resemblances among different states departing from ordinary wakefulness – from psychotic episodes to dreams and psychedelic experiences. Hence, these events may not be necessarily related to pathological states of mind. 
Perspectives on Speech Analytics on Psychedelic Research
In the same way that the psychedelic subjective experience is believed to be necessary for the therapeutic effects of psychedelics,23 increased neural entropy is predictive of enduring psychological changes.24 However, speech analytics does not have to be done exclusively during the psychedelic experience, since it successfully predicted the response to depression treatment with psilocybin.25 The predictive role of this approach suggests that this cost-effective technique can be a powerful ally to detect individual underlying mental processes allegedly related to how much one could benefit from psychedelic treatments before it starts.
From a psychotherapeutic perspective, the ability of psychedelics to expand the mind's associativity is a powerful tool to access buried mental aspects and help to bring them to the surface to be more openly approached by psychedelic-assisted therapies.26 If the discourse is a behavioral manifestation of neural processes, the entropic speech under psychedelics could be a clue on how they help to break rigid thinking and rumination behavior. 
Comments